Barry as a photographer
When I met Barry in 1985, he was deeply involved with photography. Despite some experimentation with color infrared film, Barry was disinterested in color, preferring instead the pliancy of the black-and-white tonal range and its revelation of form — especially the form of the nude. Like any photographer who must photograph, Barry struck a compromise between an income that was limited and a visual hunger that was not. He processed and printed his own work, trading prints for posing. His ads for models became a feature of the beloved classifieds section of the San Francisco Bay Area's East Bay Express, so much so that when Barry finally discontinued soliciting for models the newspaper featured him in an article. Stockpiling against his visual fascination, Barry hoarded sheets of photographic paper and mail-ordered 100-foot lengths of film to bulk-load from B&H in New York City, his motor-drive swiftly advancing the frames through his Olympus, which in those days was often with him. His second camera was an old Minolta, which he lent to me in 1985 or so when I wanted to get started using a camera again.
Barry was not obsessively concerned with exposure, using the reflected light readings of his Gossen Luna Pro light meter and understanding but lacking interest in the Zone system. He was, however, a deeply thoughtful photographer, particularly when it came to composition. Unlike some photographers who rigorously attempt to compose wholly in camera, Barry would not hesitate to crop in the darkroom if, as he reconsidered the image, he thought cropping would intensify its impact. Over the years there were many times when we would talk about a photograph and he would pick up whatever paper, cardboard, or print lay nearby and use its edges to show me how he thought it should have been cropped. He worked in an organic manner, however, always working from the image — from conception through to fine printing — using technique in service to photographic meaning instead of emphasizing the technically pristine over the artful.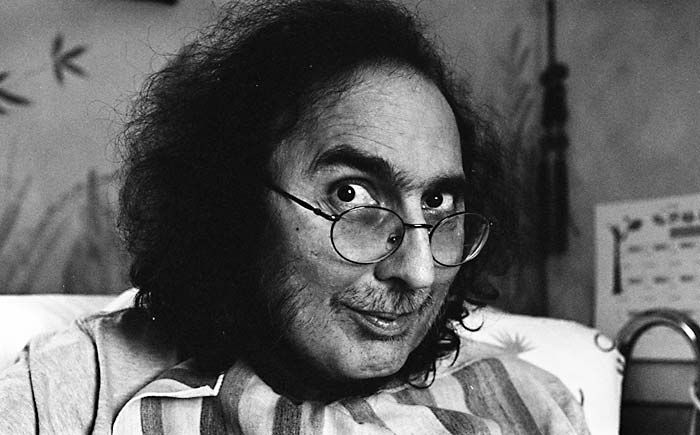 Nor did he bracket his exposures extensively, exposing one stop on either side of the reading he wanted to use for any tone. As I look at his negatives it becomes clear that he was always focused on the possibilities of the next frame, on the moment; seldom did he worry about perfecting an image that was already reflected onto the silver-gelatin emulsion of film.
Barry was also an early adopter of video, spending a lot of money to get a camera to shoot with by the mid-1980s. He had an interest in what videographers or video artists, as people who captured images using such a camera were more accurately called in those days, were doing. He made some interesting, even challenging, video shorts that drew from his photography. Unfortunately, with the succession of moves that he was forced to make, both as the result of renting in an expensive market and spending the few years he lived after his cancer diagnosis paring down his belongings, these seem to have been lost, discarded, or inadvertently taped over. His video art showed the formal values of structuralist film-making, incorporating flickers and allowing the inadvertent artifacts of the technology, like static, to remain.
Barry and the nude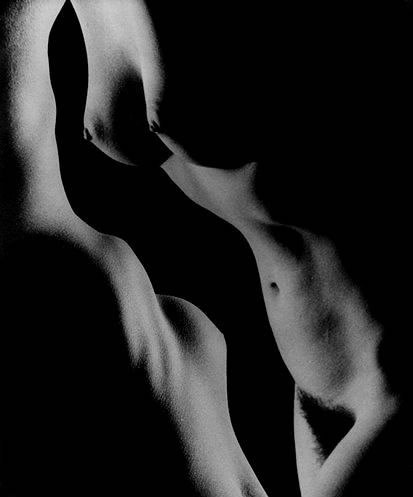 The focus of Barry's visual work was the nude. Most of his work with the nude came in the years when he worked with 35mm film using his Olympus camera. Barry preferred to work within the bounds of a photographic studio where he could combine the constrasty incident lighting of strobes with skin, flesh, body.
Like Mapplethorpe, whose "X Portfolio" Barry and I saw together at the U.C. Berkeley Museum after the pathetic brouhaha of the Meese Commission in the later 1980s, Barry preferred to compose the nude in a decontextualized manner. Instead of being obsessively interested in a wide tonal range, he was interested in the tone of light on skin, the tonal quality of skin. Before his life was turned upside down by too many moves, and then by cancer, he had an extensive library of photographic books; Lucien Clergue was among his favorites and a book by Clergue was among those Barry gave me. If you look at the images of Clergue, you get the idea of some of what Barry went for: contrast, pattern, form, sensuality, taboo. I still remember Barry's lamentation over the fact that Agfa had abandoned its Agfa Brovira fiber-based paper, grade 5, an almost excessively contrasty paper that was especially loved, and remains fondly remembered by many photographers, for solarization in printing. For everyday use, however, Barry faithfully used Kodak Tri-X film stock and Ilford photographic papers.
Barry excelled at composing the nude, imbuing images with a sense of compression and comfortably shooting nudes of groups just as easily as shooting the individual in isolation against the photographic backdrop. I remember his easy comfort with photographing the nude body and with photographing more than one person at a time, something that comes through in the 35mm still photography he did using a bulk-loading back camera for a 16mm experimental film I made about contact improvision.
Developing Barry's oeuvre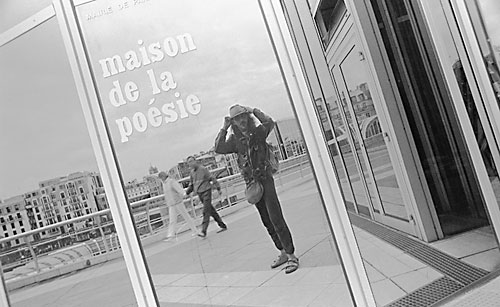 Barry and I agreed that I would try to do something with his negatives after he died. It's a tricky proposition to hope that someone else will take the time to do with your work what you yourself did not.
At one point before Barry died, because I hoped to have input from him on handling his work, I spent time searching the Internet for information about strategies that artists have followed to protect their work after they die. There's not much out there. Basically, it's no easy thing — unless you're a money-making concern it's unlikely that it would even occur to anyone to preserve your work. If you are an artist, consider what you want to happen to your work after you die. If your work is left in the hands of people who don't see its value, it will likely end up being destroyed. I would be interested in seeing a nonprofit come into being to support artists in preserving their work after death, in estate planning for artists.
At any rate, while giving your work to someone who has some understanding of it is the best possible option for an artist, it often means that you're asking another artist to do your work in addition to her own. And while I wouldn't have had it any other way, that's the case here since, in addition to trying to finally finish a novel that I'm glad I read some bits of to Barry before he died —he is the only person I have ever been able to conceive of as my reader — I work with several mediums myself. Because I have to balance doing this for Barry with my own creative work and with life in general, this site will probably grow more slowly than I would like, especially considering the vast numbers of negatives Barry left me. The images you see here are what I consider to be digital "quick prints" for the most part — cheap reproductions of work that will eventually be edited and fine-printed using traditional darkroom techniques. This is what I told Barry I would do. As I am able to get fine prints made of selected images, they will be rescanned and posted. In the meantime, I will try to post images in a way that preserves the integrity of Barry's work so it is possible that you may see editing underway on the site as time passes.
For now my focus is on digitizing the negatives that Barry shot while he and I were in France in 1985. In the months before Barry died we made preparations to begin digitizing those forty to fifty rolls of film since he had never seen most of them outside of a contact sheet. The digitized images will provide a catalog from which selections can be made for Web display and for fine printing in the darkroom. For now the nudes shown here are the few that Barry prepared for publication on the Web in the years before his illness and death. These may be somewhat different in size from the general format that I've chosen for the site.