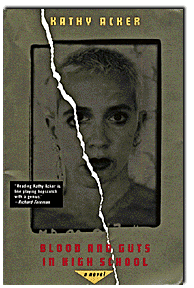 It's the summer of 1985, and I'm in Paris with a lover. We're getting along miserably and most of my days are spent walking alone through the city streets. I will not remember the pattern of the wallpaper in our cheap hotel room near the Sorbonne; I will only remember the cockroaches which traverse its surface. The bed is so soft and lumpy as to be unserviceable, but it is here that we sleep, each in our own crevice. Neither of us brought enough money, and many evenings we make sandwiches of fresh bread, avocado and cheese while we sit on the bed. We did bring books, however, and now he reads to me from Kathy Acker's Blood and Guts in High School:
One night Mr. Smith and Sally went out and Jane knew that her father and that woman were going to fuck. Janey was also very pretty, but was kind of weird-looking because one of her eyes was lopsided.
Janey tore up her father's bed and shoved boards against the front door. When Mr. Smith returned home, he asked Janey why she was acting like this.
Janey: You're going to leave me. (She doesn't know why she's saying this.)
Father (dumbfounded, but not denying it): Sally and I just slept together for the first time. How can I know anything?
Janey (in amazement. She didn't believe what she had been saying was true. It was only out of petulance): You ARE going to leave me. Oh no. No. That can't be.
Father (also stunned): I never thought I was going to leave you. I was just fucking.[1]
My lover who has not been my lover all summer pauses occasionally to show me Acker's crude and somehow comical explicit line drawings which illustrate the story of Janey and her love affair with her father, Johnny. The captions beneath the drawings are printed in a diminuative and irregular Courier font:
my cunt red ugh
and,
cause she wanted to fuck love
more than she felt pain.[2]
The gentle cadence of his voice resumes, the fractured narrative broken yet again by my occasional laughter at this uncommon and transgressive story which shocks me even while its intelligence makes me laugh, because in Janey's untrained emotions I can see my own. It is the first time that I have been read to as an adult and I realize that I want to be read to perhaps more than I want to be held. My lover who never again makes love to me reading to me from Kathy Acker's Blood and Guts in High School is one of the few intimacies we share that summer.
Some years later, maybe 1989, I approached Kathy Acker after a poetry reading of some kind that I think took place at the San Francisco Art Institute. I must have read something, or showed her something, because she said she liked my writing. By then my writing was focused on the body and on desire. I wished she was still teaching at San Francisco State University so that I could take a class with her.
I picked up Acker's book of essays, Bodies of Work, only this past month. I wanted to read her essay on Cronenberg's Crash. Its ending startled me: "I'd like to say something personal about these two approaches toward picturing the future, for as I write this I am sitting here, fighting off cancer."[3] Perhaps it is because I no longer live in the San Francisco Bay Area that I didn't know she had been diagnosed with breast cancer in April 1996. That same week, I am reassured by the presence in World Art of an Acker article on photographer Anton Corbijn. But that is only because I was unaware that what started out in the body of Kathy Acker as breast cancer had metastisized to her lungs, spleen, pancreas, and liver.
Kathy Acker died on November 30th, but you can still read her works. CTheory, a theory and culture journal whose Editorial Board included Acker, has several pieces of hers. Trevor Dodge maintains a Kathy Acker website. And a listing of Acker's books may be found at the Booksmith website or at Amazon.com.
Acker was an outlaw writer who lived subculture; her postmodern and post-punk textual plays and plagarisms are often compared to the works of William Burroughs and Jean Genet.
Acker didn't have health insurance and a debt of some $30,000 remains for medical expenses. If you'd like to help her friends make up that debt you can send a tax-deductible donation to Giorno Poetry Systems, 222 Bowery, New York, N.Y. 10012. The check should bear a notation for the "Kathy Acker Fund." Any surplus monies taken in will go towards the creation of a fund in Acker's name for the support of experimental writing.

Notes
1. Acker, Kathy, Blood and Guts in High School.
New York: Grove Press, 1978. p.7.
2. Ibid, pp. 19, 22.
3. Acker, Kathy, Bodies of Work: Essays. Kathy Acker, 1997
(first published by Serpent's Tail, London and New York). p.175.