Introduction and Interview by d.k. pan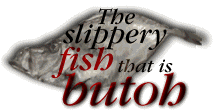 I first met Joan Laage in April of 1997. I was eager to connect with her after witnessing a performance by the Dappin' Butoh troupe, for which she is the Artistic Director. The performance of Sidewinder in the 7th annual Seattle Fringe Festival caught me by surprise as to the breadth of the Butoh form. My zealous research into the limited materials available had not prepared me for the direction that Laage has taken in her own explorations. Since this interview at our first meeting, I have attended her weekly workshops and have come to know her personally. Her dedication to the art of Butoh has in turn inspired me and nourished my appetite for more. She has shared her wealth of knowledge, and decades of experience as a performer, with benevolent grace. My admiration for the Laage's artistic achievments increases with each performance. She is a tireless organizer who maintains her artistic integrity with great devotion.

Dappin' Butoh was founded in March of 1991 and the troupe's debut performance was in August 2, 1991. The original work was entitled, desert scenes… dry mouth. The word Dappin' is derived from the Japanese word meaning "to shed," this being the title and theme of Laage's first Butoh performance. In the spirit of Butoh, Laage seeks to explore the layers beyond the visible and comprehensible to "pay homage to life individually and universally, physically and spiritually."

Laage moved to Seattle, Washington, in June, 1990 after substantial involvement with the Tokyo Butoh community. She has studied under Butoh masters Kazuo Ohno and Yoko Ashikawa, and performed with Ashikawa's group, Gnome. Various other Butoh artists and troupes with whom Laage has studied include Sankai Juku, Min Tanaka, Harupin-ha, and Akira Kasai. Since 1989, Laage has performed in the USA with Dappin' Butoh, and soloed internationally. Her background includes training as a Laban movement analyst, as well as extensive study of modern and traditional dance forms. Laage has been a presenter at national and international conferences and institutions, including New York's Laban/Bartenieff Institute. In 1993, Laage received a doctorate in Dance and Related Arts from Texas Woman's University. Her dissertation was entitled, Embodying the Spirit: The Significance of the Body in the Japanese Contemporary Dance Movement of Butoh.

In addition to being a scholar and performer, Laage has also been on the faculties of the University of Otago, Naropa Institute, Semester-At-Sea, and Evergreen State College. She currently teaches for the Portland International Performance, Florida Dance, and Seattle Alternative Dance & Improvisation Festivals. She has been received grants and awards from the Seattle and King County (Washington) Arts Commisions, the Washington Composer's Forum, Seattle's Artists' Trust, and the Texas Woman's University Alumnae Association.